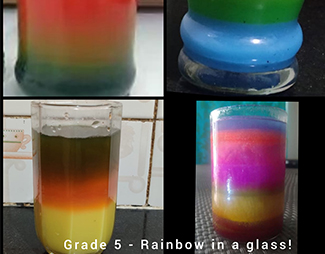 Grade 5th science activity. Rainbow in the glass.
Rainbow in the Glass: This experiment is done by using Glass, sugar, food colour. Students of Grade 5 have tried to recreate the rainbow inside their houses through this experiment. Watch, Try and find a Rainbow in your house too. Name: Teja Dayaphule & Sameeksha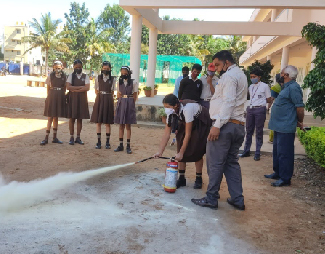 Fire Drill
A Fire Drill was organised in the school to bring awareness among the children.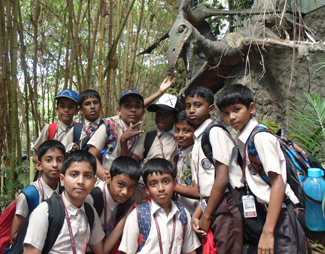 Educational Tour
Educational Trips provide an opportunity for total involvement in the natural environment and social setting. Students practice their social skills out side of the controlled classroom. The school had organised educational trip to Vishweshwariah Museum and Nehru planetarium. Vishweshwariah Museum was an visual treat inspiring kids to know about the science in different topics such as physics, chemistry, space, aeronautics, atmosphere. Students were able to understand the methods of physics practically. Primary students were taken to Jawaharlal Nehru Planetarium where they were subjected to learn about the night sky, planets, different zodiac signs. They could experience a night under the sky with the explanations given for these.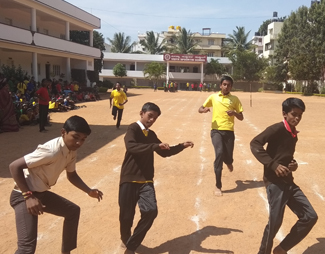 Sports Day
Sports days are celebrated with great vigour and pomp to bring sportsmen spirit amongst students.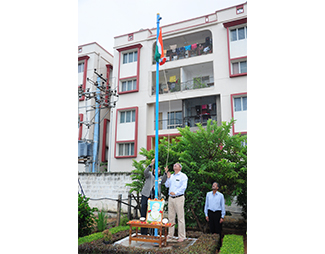 National Festivals
Children from all the classes and background take active participation.Stage plays are organized by students in memory of freedom fighters.Patriotic slogans and songs are sung by the students in the memory of freedom fighters.The campus reverberates with the sounds of loud thumping of drums playing the tune of Jana Gana Mana. March Past is done by the school student's .Plays and dance portraying India's cultural and religious heritage are organized.Children and teachers take active part in cleaning their school and society on the occasion of Gandhi Jayanti.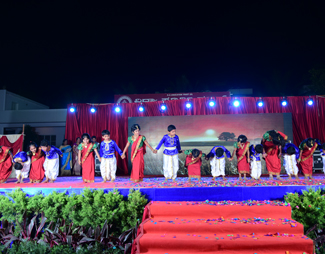 Annual Day
Annual day is celebrated every year in the month of January where almost all the students of all the age group perform in various events by showcasing their talents in different art forms along with themes based on educating the society with some fun.
Field Trip
Primary students visited a Farm land at Kodhagalli, which is specialized in the cultivation of Banana, guava & daily essential vegetables. This visit gave them a first-hand experience about various process involved in farming such has drip irrigation, weed/pest controlling methods, Natural ways of manure production, stages of plant growth, application of manure and pesticides through out the cycle of the plant, conservation of water etc., In the end it was evident that the students thoroughly enjoyed and gained good knowledge about basic farming. Going forward we want to make a field trip an compulsory event to all students.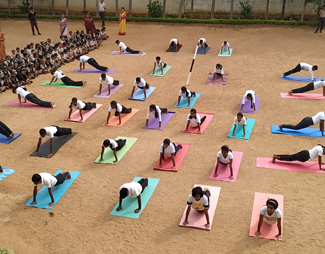 Yoga day
Students from all age group voluntarily participate in performing different asanas under the guidance of certified in-house yoga instructor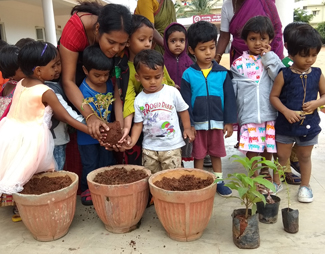 Environment Day
Primary students taking part in Gardening with in the school premises on occasion of Environment day, it's awesome to see the kids trying to do their bit and see the result of their hard work when the garden grows.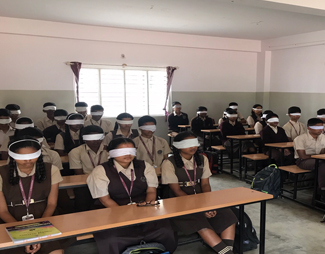 Blind fold method of teaching
To increase their attention, students are made to cover their eyes in classrooms and listen to audio lectures in order to increase their attention span.